Automate Any Process Across Any Cloud Stack. No limits.
Get a modern platform that can scale from simple point-to-point integration to complex multi-step, multi-app workflow with conditional logic processing billions of tasks in milliseconds.
Ditch the expensive IT consulting projects of yesteryear. Get fast time-to-value with a clicks-not-code configuration designed for business people.
Flexible
Easy
Powerful
Scalable
THE FLEXIBILITY TO MAKE ANYTHING POSSIBLE
Tray is designed to be flexible because no two processes are exactly alike. Configure any workflow, from the most complex to the simplest, integrate any application, add customized logic. Gain competitive advantage.
Tray.io has the flexibility to integrate the data and the fields that we needed. Whatever we ask seems possible.
Shane K.
IT Director
Connect to Any Cloud App, Deeply and Resiliently
You can get more data out of any application and never miss a beat.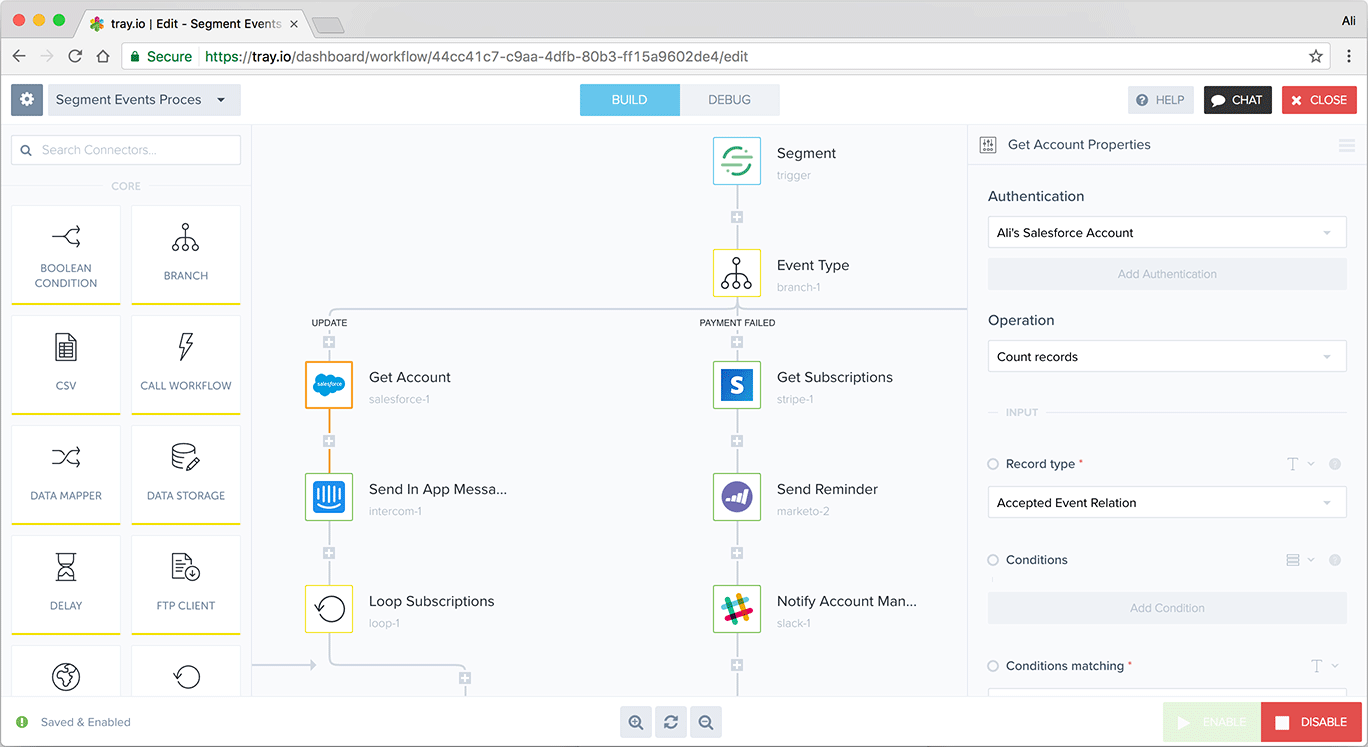 Connect to any SaaS
If your app has a RESTful API (and most do), we can connect to it using our universal connector.
Connect fast with pre-built connectors
Rapidly sync to any Cloud app on our growing list of connectors.
Full API access - including custom fields
Get all the data from your apps, including the custom fields unique to you.
Seamless connector versioning
APIs change. Tray prevents breakage with our unique approach.
Automated Retries
We will retry failed requests to keep your workflows running smoothly.
---
Authenticate Quickly and Securely
Integrations require access first. We have that covered in spades.
Control permission scopes
Easy check-boxes to granularly manage access to different parts of your apps' API.
Quick access credential keychain
One central place to manage access to all your cloud apps.Control the scope permissions for API access
Multiple authentications for a service
Access several accounts for the same tool or different accounts for sandbox and production.
Multiple authentications per workflow
Build complex workflows that access multiple accounts.
---
Automate any event
Tray triggers listen for events in your apps, then start a workflow automation.
Events from your Cloud app proactively send out a signal to Tray when data changes.
Create custom web forms and trigger your workflows upon their submission.
Manual triggers are ideal for testing your workflow or running a single job once.
Grab data from the service of your choice at a specific interval or exact time.
Callable triggers break up your workflow into modular reusale pieces and call them from another workflow.
EASY FOR CITIZEN AUTOMATORS
Business people often don't have dev resources. With Tray, you can integrate apps and automate processes yourself.

Tray provides me the ability to work independently without requiring dev resources.
Ben Cmejla
Special Projects, First Round Capital
Easy to learn intuitive interface
Our software is designed to be easy enough for business people to learn without coding skills.
Pre-built automation templates
In a few clicks get multi-step workflows configured via an online wizard for many popular automations.
No downloads
Unlike some integration software, Tray is 100% web-based. Our front-end is built with react.js which delivers a fast UI and handles complex workflows.
Drag-and-drop workflow builder
Quickly configure automation using an easy-to-use drag-and-drop workflow editor.
Powerful Dashboard
See a daily overview of the activity from all of your workflows at a glance.
Loop and branch highlighting
Quickly identify items that are part of a particular workflow enclosure.
Workflow labeling and search
Workflow labels make it easy to find one workflow when you have hundreds.
Point-and-click data field selection
Dynamic output schemas make it easy to select the fields to connect.
Clone workflows
Save time by cloning and modifying workflows
---
Format Data Automatically with Helpful Helpers
These sets of operations make it easy to transform data across different software.
Encrypt and hash data so it stays secure in communication.
Run basic arithmetic on number values in your workflow.
Change and format dates when mapping between services.
Build and extract data from JSON objects throughout your workflow.
Create and manipulate item lists using common operations.
---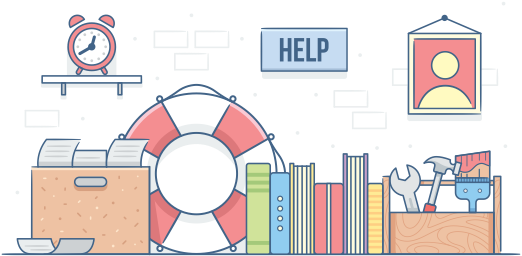 Expert support, documentation, and training at your fingertips.
Integrations are business critical. That's why we're there right alongside you. We'll help you get up and running, answer questions, provide tips and do almost anything the help you be successful.
Customer success
Our customer success engineers have computer science degrees, are deeply experienced with integration processes and are even fun to talk with.
Attentive and helpful support
If you get stuck, we'll pick up the phone or your in-app chat request and deliver a quick turnaround time.
Guides
Read step-by-step instructions and tips in our knowledge base to guide you along the way.
Built for Enterprise
Tray gives power users the flexibility to integrate apps and automate processes using preferred languages and tools.

Tray is the most powerful way to automate the web, tap into any API endpoint, and use nested conditionals.
Seth Familian
Founder + Principal, Familian&1
Re-invent processes with flexible logical operators
Build complex multi-step, multi-app workflows with powerful conditional logic.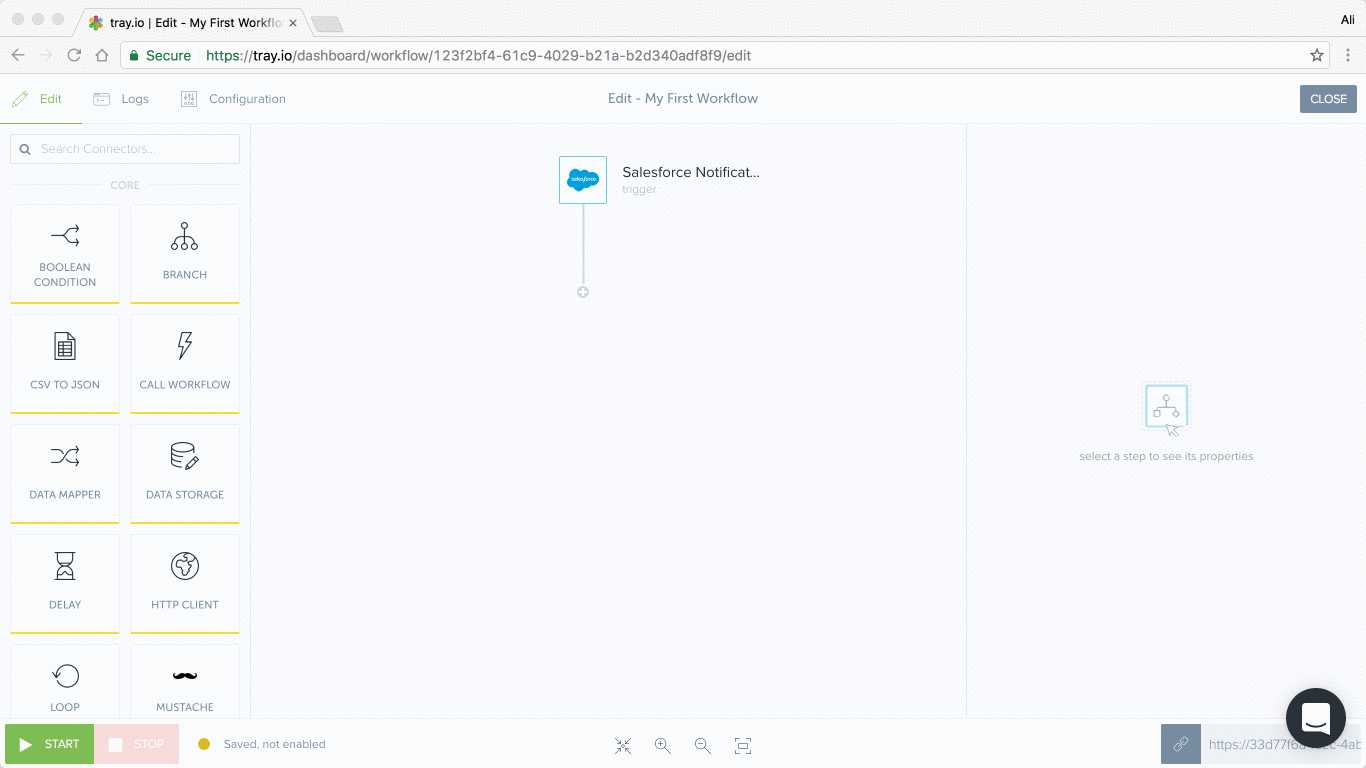 Boolean conditions offer powerful "if/then" logic to control the flow of your wofkflow based on conditions.
Compare a value against a number of different possible branches to continue down.
Loop through items in a list or an object and execute steps against each item.
Use the data storage operator to persist data permanently for use within the current workflow or even across workflows.
Write JavaScript code for more powerful manipulation of data within your workflow.
Use our universal connector to extend the Tray Platform and make a call to any REST API.
Break up workflows into modular reusable pieces and call them from other workflows.
Set a time in milliseconds to delay the current workflow.
Use the template connector to pass data through a mustache template.
Download a file or list all files in a directory on both FTP and SFTP servers.
Parse and manipulate CSV files from right within your workflow.
Use a workflow to send emails to yourself or anyone else.
---
Dev friendly capabilities
Get the functionality that your friends in dev or IT will appreciate.
Database connectors
Connect Postgres, AWS S3, Base, Firebase, MySQL, Redshift and more.
Advanced debugging
Search and filter logs on any property for fast debugging.
Customizable log retention
Customer defined log retention time to comply with your IT policies.
Map data between any historical step
Use the data from any previous workflow step later in your workflow.
List handling
Lists at higher scale, including pagination, and volume.
SCALABLE FOR MISSION-CRITICAL PROCESSES
Never outgrow Tray. Never incur switching costs or suffer through limited tools.

Tray.io is the modern-day router of data between our marketing and sales tools. Unlike most integrations, with Tray.io we're able to easily and logically transform Segment's firehose of data into a meaningful format Marketo can ingest. With nearly a flip of the switch and zero engineering resources, Tray.io routes hundreds of thousands of identify calls and events per day to our Marketo instance - enabling us to run smarter, more effective campaigns.
David Dorman
Director of Marketing and Demand Generation @ DigitalOcean
The Tray platform is built to scale
We have taken great care to provide a platform and features that scale with your business.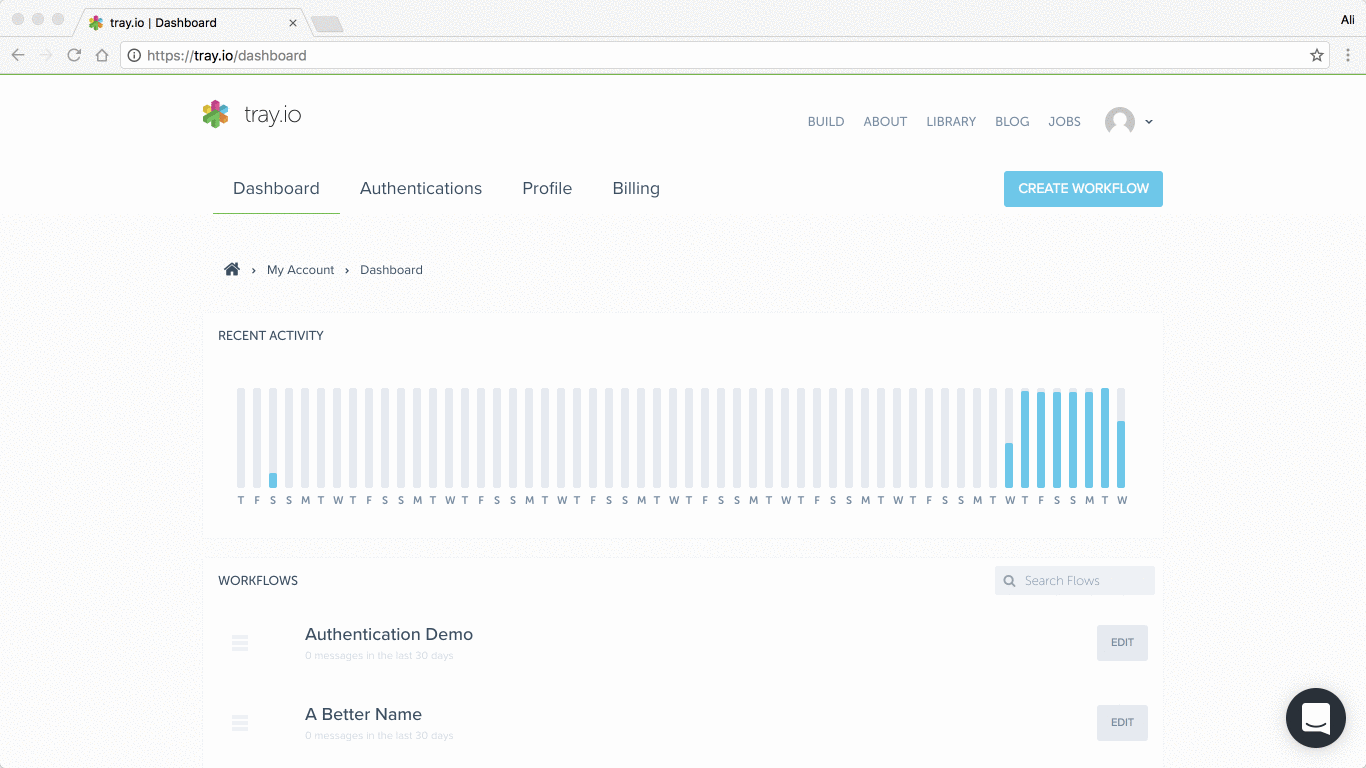 Infinite scalability
Execute an unlimited number of workflow tasks. Our unique serverless architecture is elastic. It can scale up and down on-demand.
Data storage
When you're building workflows, sometimes you'll need to store data temporarily (for example, if you want to detect if something has changed).
Real-time workflow processing
No delay in the scheduled start time of the workflow or its execution.
Log data storage
We store log data so that you can go back and inspect workflows that executed back in time.
Alerting
Know when a workflow process fails with proactive alerting. Even customize how alerts are triggered.
Trust
See our Trust page for full details on our availability, performance, security, compliance, and resilience
Quick & Continuous Innovation
Tray releases enhancements daily to give you a competitive advantage.
Multi-user access
Manage user access and permissions across your team.