Personalization is shifting from email to omni-channel. Are you ready?
Is your business ready for personalization at scale?
Expectations for personalization are changing how companies engage with customers. Learn how software analytics leader New Relic tackled the challenge of delivering personalized messaging for hundreds of thousands of customers. Join growth leaders from New Relic and Intercom in our in-depth webinar on how to personalize at scale.
New Relic is just one of many companies that realize conventional wisdom about customer behavior may not be relevant anymore. Sure, a third of internet users find online ads "annoying" and the world's #1 browser launched a built-in ad-blocker. But this is because people don't want to engage with companies in any meaningful way, and they don't want to surrender personal information to some faceless corporation that will do who-knows-what with it. Right?
It's not that simple anymore. The game is radically changing. In fact, research shows customer behavior trending away from shunning interacting with a company entirely, and towards customers actually preferring, and expecting, your company to engage with them...as long you do it in exactly the way they want, through messaging, content, and offers personalized to their needs and behaviors. And it goes beyond simple email personalization or website personalization.
More than half of Internet users expect personalization
80% of online users actually prefer those "annoying" ads be customized to their location, so they can find shopping deals and relevant services in their area. More importantly, online customers feel that personalization is so important that 52% of them will switch brands if you fail to offer them such an experience.
Even though customers are increasingly savvy about online privacy concerns, more than 60% of millennials and Gen Z users - the youngest and savviest users of all - are comfortable trading their details in exchange for a personalized experience (with the personalization definition of special deals and content offered in exchange for transaction history and personal preferences).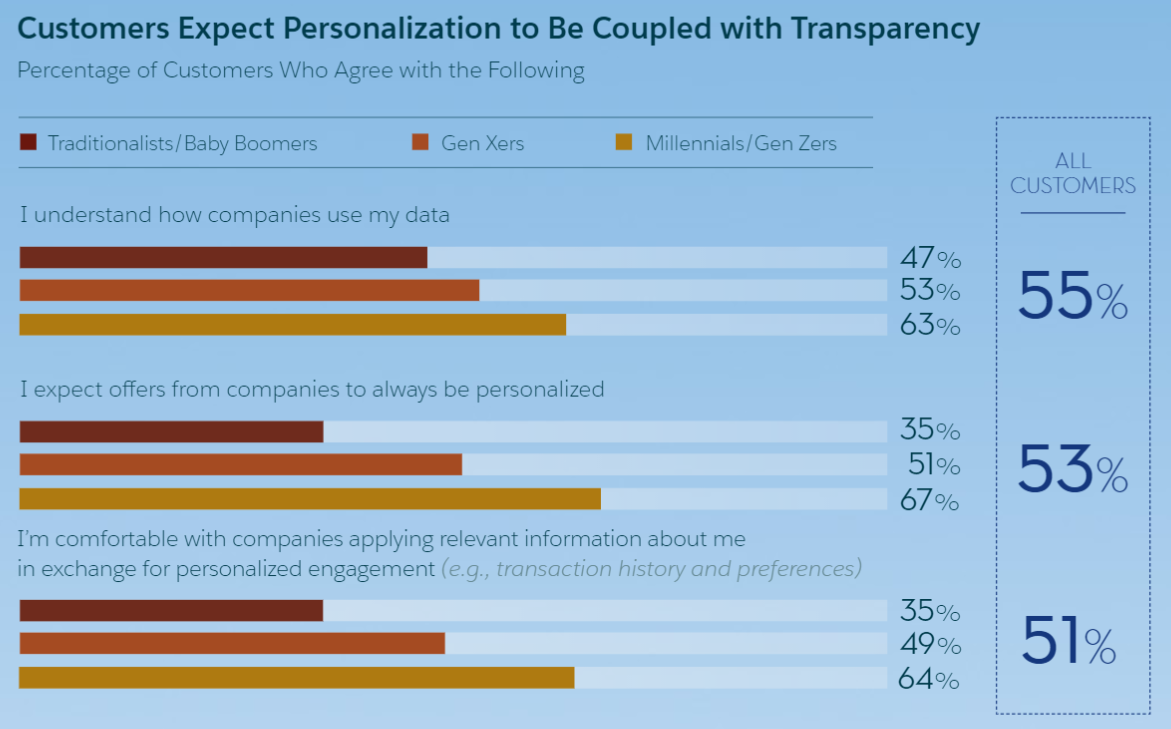 The real business challenge: Personalization at scale
OK. So personalization is important, and your customers not only prefer it, they expect it. Here's the problem. If you work at a rapidly-growing company or a successful enterprise,   there's no way to manually personalize the experiences for your audience. Email personalization and website personalization individually are already challenging enough.
But we're talking about having to accommodate multiple interactions, multiplied by the potential number of different channels (email, Web, chat, ads, and so on) to reach customers...multiplied again millions of individual customers who each expect a personalized experience. So how do you drive personalization at scale?
It comes down to customer data, and how you manage it. Let's go over some of the important components that can help you build a strategy for using customer data to personalize at scale.
Components that can help you hyper-personalize at scale
Here's an example of how this works: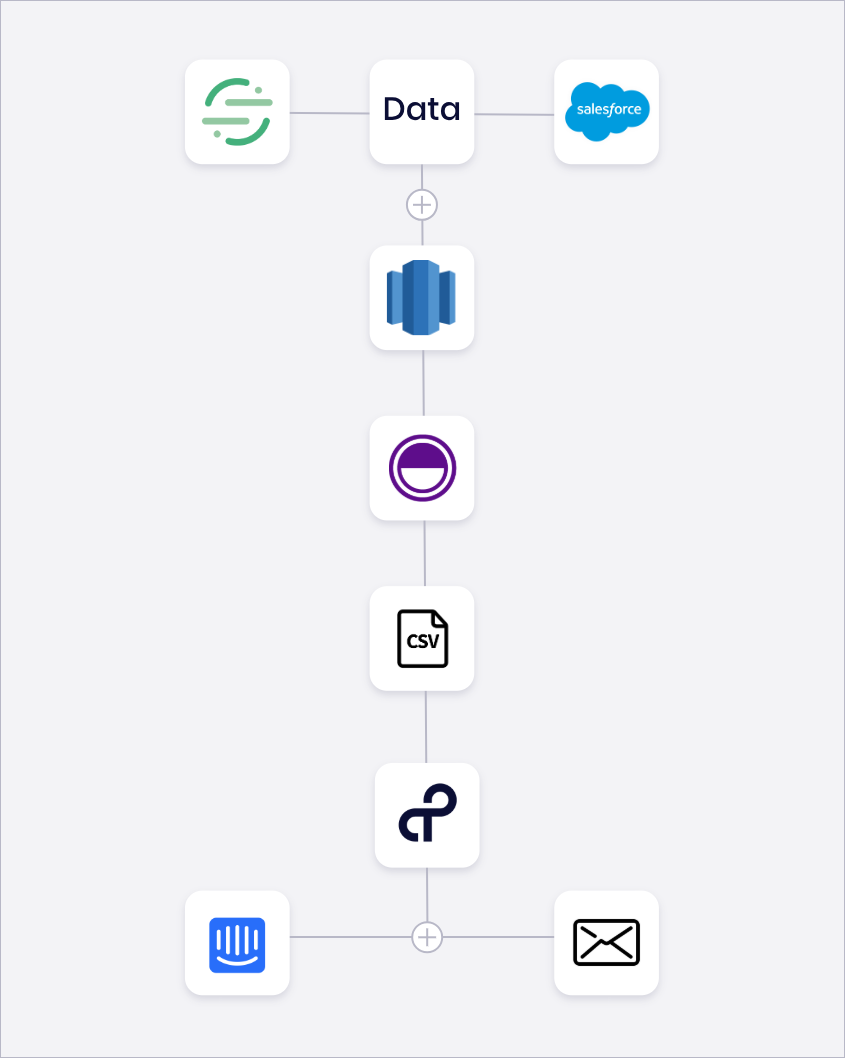 Personalizing at scale requires deep integrations among a variety of important applications.
This might look complicated, but it was simpler to build than you might think. In fact, this is a schematic of the exact strategy that leading software analytics firm New Relic used to tackle the exact challenge of hyper-personalization at scale.
New Relic personalizes customer messaging at scale
The analytics leader faced the challenge of growing its rapidly-developing self-service segment while focusing the majority of its customer support resources on high-value enterprise-scale accounts. It had the customer data it needed, housed in a CDP. It had a data warehouse to unify customer event data. It had a powerful messaging platform to proactively send appropriate messages to customers in at different lifecycle stages, such as early-stage marketing leads on down to veteran customers. What it needed was technology and strategy to tie it all together.
I discuss this challenge of hyper-personalization at scale - and how to solve it - directly with Niels Fogt, Senior Director of Growth at New Relic and Brian Kotylar, Director of Demand Generation at Intercom in this webinar, How to Supercharge Growth for 2019: Personalization at Scale.
In it, I have a fascinating discussion on how New Relic's growth team built a new system that combines CDP, data warehouse, analytics, messaging, and email using:
Deep integrations that make custom API-level calls for each app
Constantly-updated customer data synced bi-directionally from CDP, data warehouse, and directly from customer usage patterns
Hyper-personalized messaging customized both for individual customer personas as well as for lifecycle stage (early prospect, new customer, returning customer, power user, and others)
Learn exactly how New Relic built a hyper-personalization strategy to scale to thousands of customers over both messaging and email by watching the webinar now.