New connectors + templates, performance upgrade, speedy logs + backups
Product
Connectors
New release
Building integrations on tray.io just got faster
Performance Enhancements
A big update to the workflow engine has been released recently. This release is a big upgrade to help support workflow loops that contain very large data sets. Workflows deployed since this release will execute quicker, alongside a speed improvement to log listings.
Workflow Editor + Backup
We continually work on the editing experience within tray.io, our latest improvements on the builder and workflow graph make it impossible to break the structure (especially for those of you creating workflows of 200+ steps).
Another exciting release is a heavily requested feature - workflow backup. It is now possible for us to recover the graph at any former state, currently you'll need to request recovery via our support channels as we work on implementing this in the UI.
New Connectors
Mustache - Simple string templating language.

Customer.io - A platform for sending targeted messages.

Quickbooks - Online account for small businesses.

Catchpoint - Web performance monitoring as a service.

Unbounce - Build, Publish and A/B Test Landing Pages.

Google BigQuery - A fast, economical and fully managed data warehouse for large-scale data analytics.

Marketo - Best in class Marketing Automation Software.

PersistIQ - The all-in-one outbound sales platform.

Shopify - E-commerce software.

Google Calendar.

HTTP Client - (*update*) connector now supports OAuth authentication.

Templates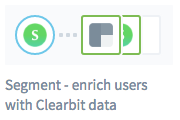 Enrich all Segment users with Clearbit Data - get this.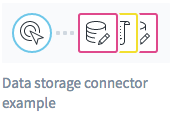 Get started with the Data Storage Connector - get this.