Welcome to the era of the automated organization
Learn why leading companies are integrating and automating the flow of data across their organization to gain competitive advantage
In this eBook, "Welcome to the era of the automated organization" Tray.io surfaces critical trends it sees in its customer base of Fortune 500 and fast growing business in their adoption of emerging technology and processes. Be at the forefront of this significant shift ushered in by Amazon.com, Netflix and other innovative companies. Read proprietary insights that only Tray.io can offer given its unique vantage point at the center of the integration and automation technology ecosystem.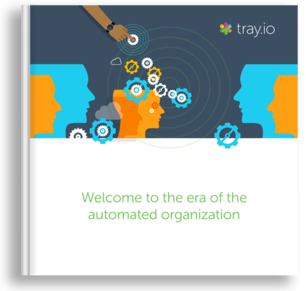 What you'll learn:
Emerging technologies and trends that are shaping business
Benefits of becoming an automated organization
Integration and automation ideas and examples by department
To see exactly how you can seize this new era, download this eBook.
About Tray.io
We believe that any business professional should be able to easily connect their entire cloud software stack and automate complex processes in order to scale their growth.
About Tray.io
Tray.io is the API integration and automation platform for business. Turn your team into citizen automators.
Call Us At +1 (415) 418-3570
If you would like to talk to us immediately about your automation requirements then please give us a call.