General Account Management
Two Factor Authentication
Two Factor Authentication (2FA) is an industry standard implementation of Multi Factor Authentication which requires two seperate methods of verifying your identity when you try to access tray.io services. We have taken the Time-based One-time Password (TOTP) approach which requires you to use a compatible smartphone app such as Google Authenticator (iOS or Android) or Authy (iOS or Android).
To enable 2FA on your account, click on your account avatar:
This will take you to your PROFILE page and click the green ENABLE TWO FACTOR AUTHENTICATION button. You will then be prompted to setup your TOTP application such as Google Authenticator or Authy as mentioned above. To disable 2FA when its been enabled on your account you can click on the red DISABLE TWO FACTOR AUTHENTICATION button and enter your password when prompted.
Important: Please remember to copy your backup code as this is required if you lose access to your 2FA device. This can be used in place of the 2FA verification code after you login.
Editing Your Profile
To make changes to your profile, click on your account avatar. Your profile page allows you to make changes to your email address and password, enable/disable two factor authentication, view current user sessions and delete your account.
User Sessions
On your profile page you will see a list of current user sessions. This list shows each of the current logged in sessions for your account, including your current session which is highlighted in green. Each session has created date, accessed date, IP address and the browser being used to help you identify if the session is valid or not.
If you find a user session which you don't recognise, you can revoke it by clicking the red REVOKE button. This will immediately log the session out so it cannot be accessed anymore.
Teams
Information about how your team is set up can be found in the Team section of your dashboard.
From here you can view information about your team including the number of workflows each team member has.
You'll only be able to see your other team members' details if you are the account owner.
To add a new member to your team click the INVITE TEAM MEMBER button in the top right. If the member already has a Tray account they will be invited to your team. If they do not yet have a Tray account they'll be sent an invitation to sign up for one before being added to your team.
Adding members to your team means that they will share your plan - your workflow allowance, for example, is shared amongst all of your team members. Your team members are not able to access or amend the team's billing details. Only the team owner can do this.
Billing
All information about billing can be found in the Billing section of your dashboard.
If you wish to change your plan follow the link to the contact us section or use the chat icon in the bottom right of the screen.
You can update your billing details in this section. Click SAVE CHANGES to save the new details you have entered.
At the bottom of this section you can see the invoices that have been sent to you.
Analytics
Tray Analytics allows you to explore and visualize the tasks used by you and your team. You can find the analytics page by either going to the analytics URL (https://app.tray.io/analytics) or by selecting analytics from the main menu in the dashboard.
What is a task?
Tray Analytics is all about exploring how your workflows are executing tasks. The simplest way to think of a task is to imagine it as equivalent to a step in a workflow. When a workflow runs it executes each of its steps and each one becomes a task. A task does not necessarily correspond directly to the number of calls to a service that are made. For example, a Tray connector may make several calls to an API when it executes but this only counts as a single task.
Using Tray Analytics
The default view in Tray Analytics shows tasks over the last 7 days. This is up to the last complete day so you won't see partial data for today's date. The bar at the top provides a description of the graph.
The tables below the graph show the user, workflow, and connector with the most tasks. Note that the user table is only available to the team owner.
We can click on the items in these tables to see more details. For example if we select airtable from the Connector table we can see volumes for the airtable connector over the last 7 days. This view is for all users and all workflows.
We can use the bar above the graph to edit partitions. We can also click RESTORE DEFAULT to return the graph to the default view
If we select Workflows here we can see which workflows are using airtable. They are displayed in different colours.
Clicking on either a colour on the graph or a row in the table will then filter by that workflow.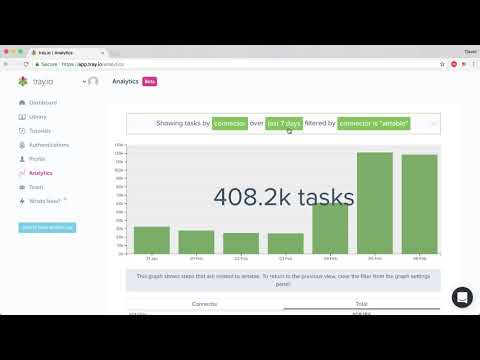 Was this article helpful?