How to
Using Intercom and Salesforce to personalize your selling
Learn how to unlock better collaboration, greater enrichment of Intercom users and Salesforce leads, and deeper reporting capabilities in Salesforce.
There are thousands of SaaS tools on the market, making it increasingly difficult to stand out. With increased competition, teams must constantly ask: what ways are we different, and how can we convert more leads into sales opportunities?
To create more sales opportunities, marketing and sales must demonstrate a deep and personalized understanding of their user base.
This is not groundbreaking. Most teams recognize the need for customized outreach to generate more opportunities. They rely on tools like Intercom, a customer engagement platform, to filter users on attributes including company size, industry, web visits, and more. These details paint a clearer picture of who users are, what they are doing, and how to best engage with them.
Our customers at Tray.io love Intercom, yet struggle to get all customer data back into their single system of record: Salesforce. While marketers sift through users on Intercom, sales reps rely on Salesforce to log activities, track leads, and create opportunities. This gap between Salesforce and Intercom causes several problems:
No single source of truth: customer data is scattered across Intercom and Salesforce, reducing visibility across teams
Limited clarity for sales reps: not recording Intercom activities in Salesforce makes it difficult to identify hot leads and opportunities
Reduced personalization: not enriching Intercom with Salesforce data makes it difficult to target users based on their unique attributes and history
The Tray Platform's Intercom-Salesforce integration allows key pieces of customer data to flow between both tools, ultimately storing all information in one central location. This means better visibility and collaboration across teams, greater enrichment of Intercom users and Salesforce leads, and deeper reporting capabilities in Salesforce.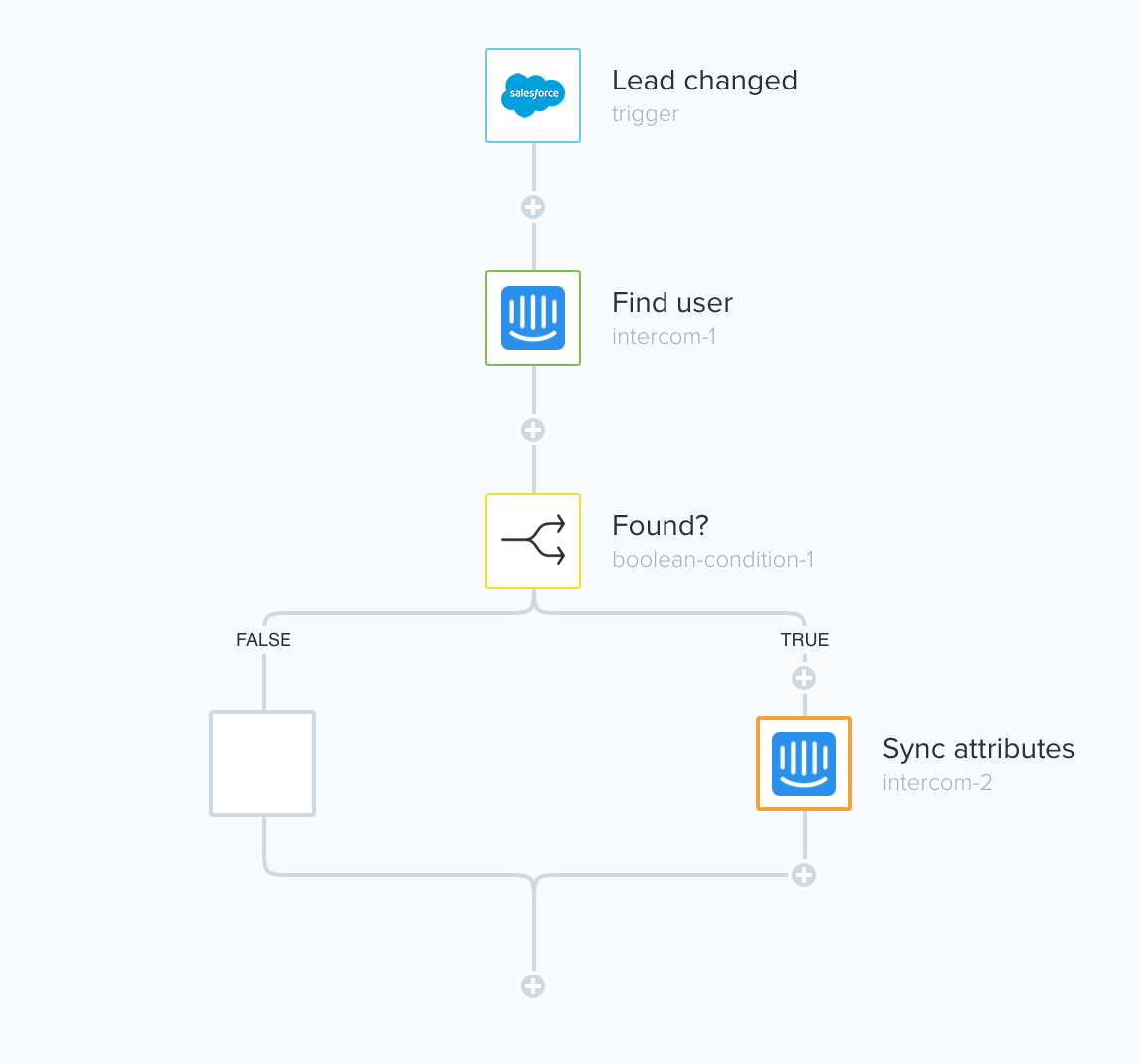 Our Intercom <> Salesforce solution is a bidirectional integration, providing a fuller view of your user base and centralizing your data in one place.
To generate more sales-ready leads, sync Intercom "Segments" that fit your qualification criteria into Salesforce so reps can take quicker action. Or, try auto-syncing your Salesforce data back into Intercom so marketing can send more personalized email campaigns. With so many options, this integration offers a flexible solution for both marketing and sales professionals.