Introducing: Sharing multiple workflows
The next stage of Sharing Workflows
Greetings, Citizen Automators! We're pleased to announce the continued evolution of a key enterprise feature of Tray for Teams. While we had previously unveiled Tray Analytics to help you gauge your workflow stats at a glance, more recently, our product team announced Sharing Workflows, the ability to share a workflow amongst your team members.
Today, we are pleased to announce that we have added new capabilities to this already-powerful feature. We have expanded Sharing Workflows so that users can now select multiple workflows and share them all with their team members in a single step. This added functionality means that teams can collaborate across the enterprise even more quickly and easily within the Tray Platform.
Why this matters: Collaboration helps at every stage of workflow development
Power users at our enterprise clients want to share the wealth with their colleagues and asked us to make this even easier. Improved collaboration helps our users become more successful using the Tray Platform. Turning the process of workflow building and maintenance into a team activity decreases the time it takes to build workflows.
Tray Platform users can now rapidly share knowledge on the ins and outs of complex workflows by making them available to everyone across the enterprise. New users can now use the work of their team members to quickly repurpose existing workflows to start automating right away or can use these workflows as training examples.
Here's a specific example: As a new user of the Tray Platform, I may want to see which tasks are being automated between Salesforce, Segment, Redshift, and Eloqua at my firm. Our expanded functionality for Sharing Workflows makes it easy for me to see how my team has built workflows that integrate each application. And this, in turn, lets me take these learnings and use them to solve new challenges.
I can also use this feature to quickly share all the workflows I have built with more-experienced users as part of a review cycle. Getting my colleagues' feedback on the workflows I have built helps me learn the platform even faster.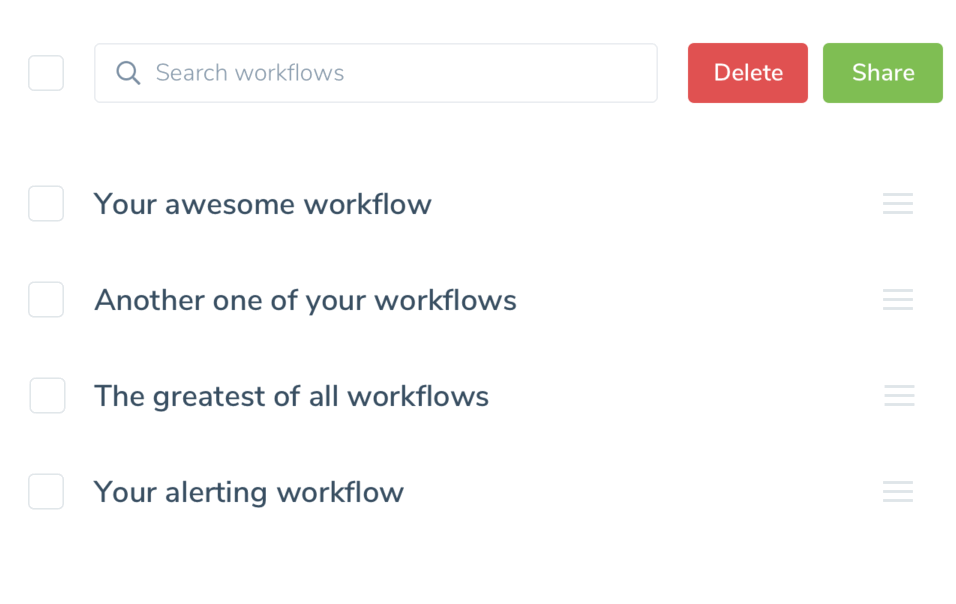 How it works: Share multiple workflows with your team
Sharing multiple workflows with your team is easy. Here is a brief run-through of how to use this powerful new enhancement:
Log in to the Tray Platform and go to dashboard view

Scroll down to the list of your existing workflows

Click the checkbox next to the left of every workflow you would like to share

Once you have selected every workflow you plan to share, click the "Share" button in the upper-right corner of your screen

Enter the email address for the Tray Platform user(s) to whom you wish to send your workflows

Click the "Share" button
...And now, your collaborators have access to all the workflows you have shared.
Have questions? Please check our documentation. Want to see the Tray Platform in action? Register for one of our live demos.