Introducing rollback history: Your way to see and (revert back to) every workflow update
Greetings Citizen Automators! Recently, our product and engineering teams made it possible to undo and redo steps when you are building workflows within a single session. Today, our product team has added even more functionality to this already powerful feature: Rollback History.
Rollback History allows users to have a full audit trail for every change made by any user at any time to your workflows, even across sessions. And unlike legacy solutions that weren't built for business users, Rollback History's powerful search and filtering capabilities allow you to quickly reference every change made to your workflow, search for any and all updates to your workflow with full visibility into authorship, dates, and timestamps, and instantly revert to any version. The user experience is similar to Google Docs.  
Make your life easier: Full transparency for your entire workflow history
When you are building your workflow, you will notice that the Tray Platform will notify you on the status of your workflow on the bottom left of the workflow builder. Status updates like "Saved, Not Enabled" will keep you on track as you build your workflow. On the bottom center of the screen, you will now see a new link to "View History" of your workflow. This is where you can really see the value of this new functionality.
Once you select View History, you have full access to every update made by each team member to the workflow you are working on sorted by date and time-stamp. Additionally, our team made it really easy to filter by specific step that was updated including: enabling or disabling workflow, changes made by each member of your team, creating workflow steps, updating titles to a workflow step, adding operations like Logic Helpers or Loops, or updating authentications, etc.
If you need to revert a workflow to a previous version, simply click on the date and time that shows the previous version you choose and click "Rollback to this Version" in the app. Once you select that button, your workflow will render to this previous version of your workflow - it's that easy!
And don't worry - if you went too far, you can simply click on our Undo button in the top left, to go back to the prior version of your workflow.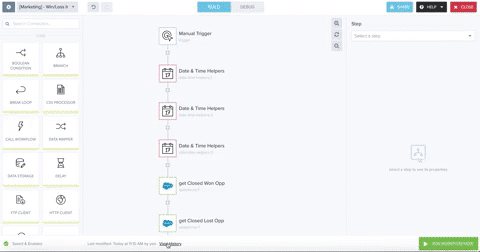 At Tray.io, we are continuing to deliver modern, enterprise functionality (like our visual workflow and the ability to easily share workflows with your team) to a legacy, B2B space. Rollback History is yet another example of the awesome new innovations that our product and engineering teams are consistently adding to the Tray Platform.
When you combine this consumer product functionality along with our newest capabilities like our Tray for Teams, as well as new documentation platform and SSO for the Enterprise just this past month, it's clear that the Tray Platform is generating huge momentum in the market and 2019 is just getting started!
Have questions? Check out our new documentation platform today! Do you want to see the Tray Platform in action? Register for one of our weekly group demos.