Product
Introducing: The Pardot connector
Product
Pardot
Connectors
Tactics
Marketing
Sales
Easily integrate Salesforce Pardot and any other application with our Pardot connector. Flow lead, prospect, and list data anywhere across your tech stack and streamline the marketing lifecycle.
Calling all marketers! The Tray.io team is excited to announce the next of many powerful connectors designed to help you make the important work you do every day faster, more efficient, and better positioned to strengthen lead flow to your sales team. Today, we're unveiling the connector for Pardot, Salesforce's own marketing automation solution - another outstanding tool we all know, love, and use (we'll assume that's the correct order).
By using this connector, you can integrate Pardot and all its marketing automation tasks directly into your technology stack. More importantly, this connector empowers you to build automation workflows that securely tie those tasks together with your most important data, every step of the way.
What can you do with the Pardot connector?
Pardot is, of course, the marketing automation application from Salesforce, which syncs directly with the Salesforce CRM...and which you may already be using to create and run your marketing campaigns. We should mention that the Tray Platfrom supports almost all API operators, and is always adding more. In this case, you can use the connector for Pardot to:
Create new Pardot prospects
Pull up a Pardot prospect by email address
Pull up a prospect by their Pardot ID
List available Pardot campaigns
Pull available lists in Pardot
Run a query for a list of Pardot prospects
Update a Pardot prospect by ID
When using this connector to pull up individual prospect info, you can specify Pardot output, such as name, email address, location, industry, opt-in/opt-out status, associated campaigns, and many others. When pulling campaigns or lists, you can use this connector to generate hundreds of results by name, ID, or by cost.
Why is this important?
By using this connector, you can not only connect your key Pardot-based marketing tasks with the rest of your current tech stack, but you can also automate them with multi-step workflows to trigger additional steps in non-Pardot applications such as GoToWebinar, Asana, Slack, or Gmail using the Tray Platform's powerful drag-and-drop interface. This ensures that important steps in building and maintaining your funnel don't slip through the cracks.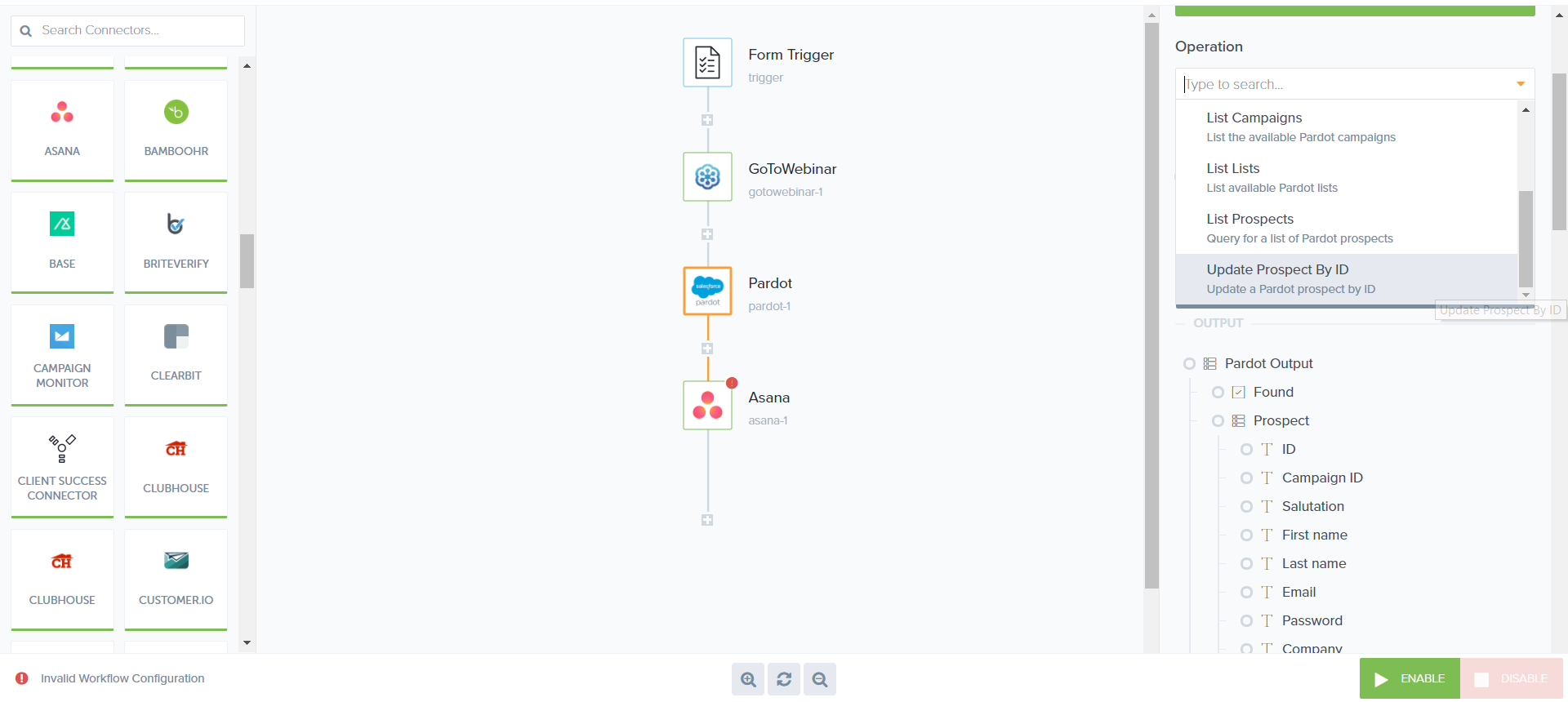 Quick example of the Pardot connector: B2B lead development & sales enablement
You might, for instance, use the Pardot connector based on a webinar-specific marketing campaign to trigger deeper-funnel marketing and sales activities. Specifically, let's walk through a potential automated workflow you could use to advance a prospective customer, who just signed up for your company's next webinar, through your funnel to begin a sales conversation.
Create a workflow that begins with a Form Trigger, which captures the personal information that leads enter into your landing page form, then sets off a cascade of next steps.

Set the Form Trigger to activate the Tray Platform's GoToWebinar connector to register this prospect for your webinar.

Also set the Form Trigger to activate a Pardot action to "Update Prospect By ID." Since this prospect just watched your Important Business Webinar, you might wish to update this particular contact in your Pardot database by using the "Add To Lists" function. Specifically, you might add them to your Important Business Webinar List, which your company might use for additional prospecting or nurturing touches, such as for future webinar alerts.

Set the Pardot action to then trigger an Asana task, populated with that contact's full e-mail and phone info (which Tray can pull from your database in the same step) to have your sales representatives call the prospect directly within the next week to begin an early sales conversation.
Takeaway
As you can see, the Pardot connector opens up a world of new possibilities for your marketing operations that incorporates your existing toolset and helps you effectively collaborate with your colleagues. In this case, you can integrate Pardot into your stack to ensure there are no leaks in your marketing funnel and to shorten your sales team's time-to-close window.
Learn more about how the Tray Platform can make your marketing funnel more efficient and help you empower your sales team to close deals more quickly by requesting a demo.