Introducing: The Mode Analytics connector
Product
Mode
Connectors
Tactics
Customer
Support
Today, we're announcing our Mode Analytics Connector, the powerful analytics and reporting suite for data analysts. The Tray connector enables you to integrate Mode metrics and reporting directly into your day-to-day operations and to build automated workflows that capture new customers and retain existing ones.
What can you do with the Mode Analytics connector?
Mode is an analytics platform whose strengths include robust and highly portable data analysis and visualization options, as well as powerful collaborative features, such as instant sharing of dashboards and other reports. Tray connectors support nearly all operations for any given API and are constantly being updated with new functionality, but here's a brief overview of Tray's connector for Mode, which you can use to:
Pull info about the currently authenticated user
Pull a report from your Mode analytics account
Pull a list of all Mode reports in a specific space
Why is this important?
With the Mode connector for Tray, you can immediately integrate your data from existing Mode reports to inform other applications you use as part of your day-to-day work.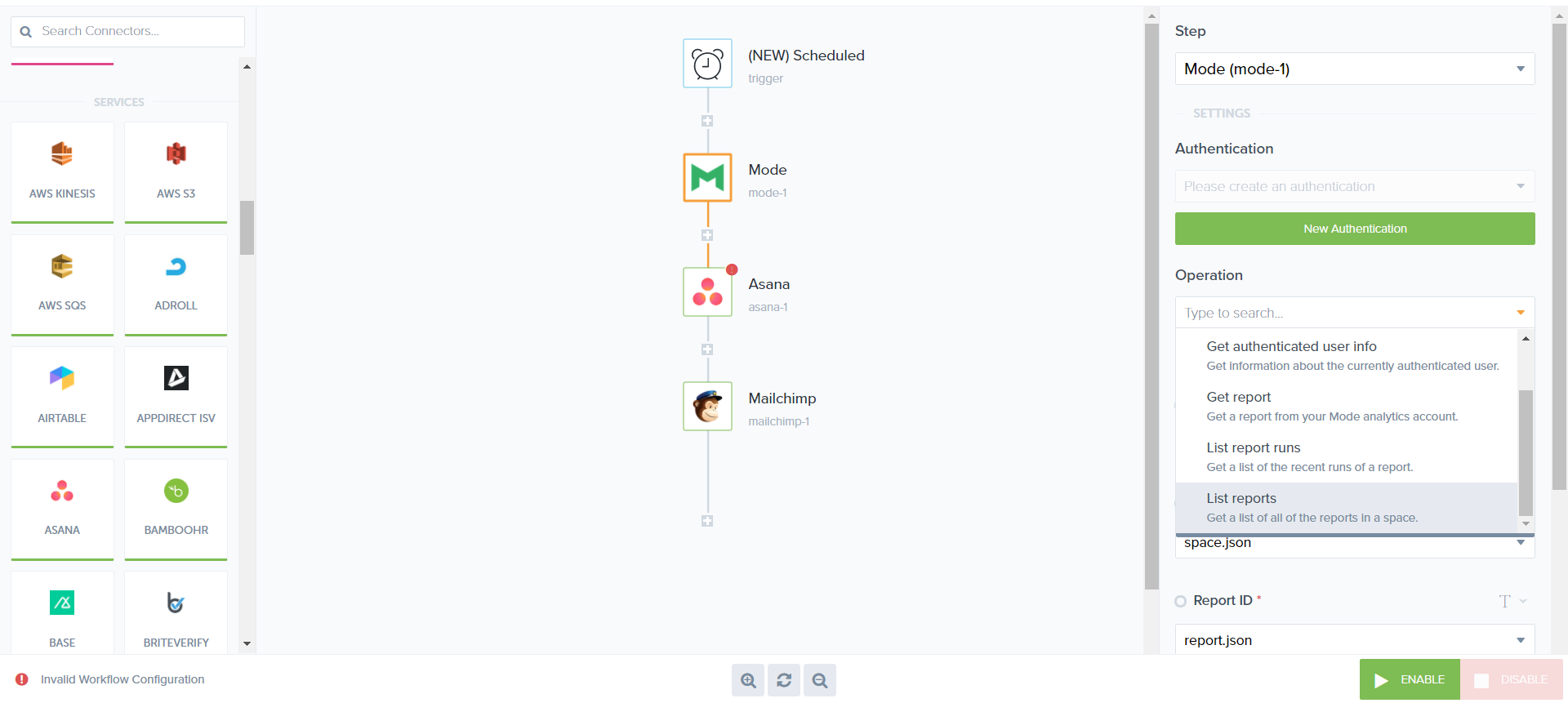 Quick example of the Mode connector: B2B customer marketing to prevent churn
For example, your enterprise software company might already have a highly mature sales and retention funnel. In fact, using Mode, your company might already have identified risk factors among key customer metrics that signal potential customer attrition. These metrics might include measurably lower customer engagement, overdue invoices, having your primary customer contacts leave for a new job, and so on. But with the Mode connector for Tray, you can make these important insights much more actionable. Let's walk through a sample workflow to run automated customer health checks each quarter.
Create a workflow that begins with a Scheduled Trigger - on the first business day of each quarter, you use Tray to trigger a new workflow designed to diagnose customer health and assess churn risk.

Next, set the trigger to activate a "List Reports" action to pull a list of reports from your Mode database. You can use a list of reports, in aggregate, to gauge the specific at-risk metrics your company has empirically observed to be associated with churn.

If, for that quarter, your various Mode reports start showing that telltale combination of critical levels (customer engagement drops more than 15% within a month, the most recent invoice is past due for more than two days, and so on), set a cascade of follow-up steps to proactively retain this customer.
Once you've used Mode's powerful data analysis along with the Tray connector to proactively identify an at-risk customer, you can then set a branching, multi-part retention campaign workflow to trigger.
For example, you could include additional steps in this workflow including, among other things, triggering an urgent Asana task to your customer success team to immediately run a full internal customer account review, as well as to schedule a customer call within the next 48 hours. You might also set a SurveyMonkey trigger to send a satisfaction survey to the customer on immediate areas for improvement, a CRM email with an offer for discounted pricing, and/or other measures intended to prevent the loss of this at-risk account.
Takeaways
Hopefully, you're getting a sense of how Tray's connector can help you harness the power of Mode Analytics to work for you. In the above example, this one-two punch of Mode's data analysis and Tray's seamless integration with other tools such as Asana, SurveyMonkey and CRM turn what might have normally been a lengthy, multi-departmental series of meetings into a fully automated workflow that makes you and your teams 10x more efficient while saving you hours of operational red tape.
Learn more about how Tray can help you move more quickly and retain more customers by requesting a demo.