Product
Introducing: Workflow Labels
Learn about workflow labels that let you tag workflows so you can later find them easily.
TLDR
Tray delivered a new feature named Workflow Labels. This helps users tag workflows to easily find them later.
Tell me more
It all started with a single flow, but suddenly you have 5, 15, 50 Tray workflows powering your business. In addition to this, you have test flows and side projects waiting to be released into production. It's time to get organized, and with that thought — we introduce labels.
You are either thinking '50 workflows, wow! One day...' or *'Ha! I remember the days when we had 50'.* Either way, our users have asked, and we have listened.
Here at Tray, our entire business infrastructure runs on the Tray platform. We're well on our way to 100+ automations, from standup reminders and bug reporting forms to managing user support through Intercom. Managing a suite of mission-critical workflows demands a clean interface, or workbench, if you will.
We went for a minimalist approach in our new Dashboard. Easily create custom labels and assign them to your workflows. Our solutions team recommends grouping by Service (Asana, Marketo, Slack), Environment (sandbox, production, side-project), Owner (Jim, Ashley), or Department (marketing, sales, data science). Use the buttons on the left to filter your workflows and view the set relevant to you.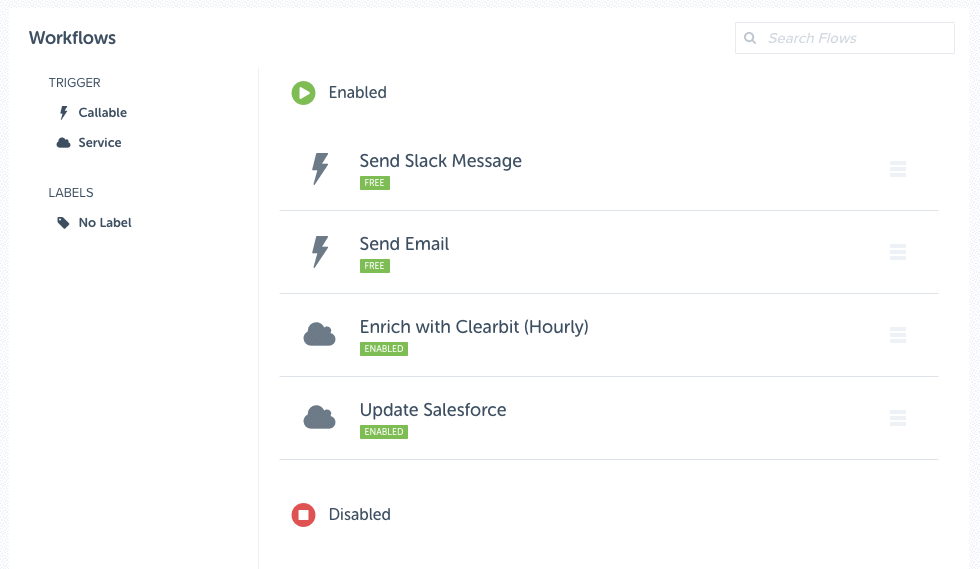 It's simple, but it makes managing your workflows much easier. If you've got any feedback about this feature please get in touch via our customer support in-app chat feature.
If you're not yet a customer and would like to check-out Tray, request a demo.