Introducing: The Iterable connector
Product
Iterable
Connectors
Tactics
Marketing experts rejoice! Tray has released a new connector to Iterable, the outstanding omni-channel messaging platform. That means you - yes, you - will now be able to integrate the impressive messaging capabilities of Iterable directly into the rest of your sales and marketing stack. Which means your email marketing gets faster and more efficient, and drives higher open rates, ultimately pushing more leads through your sales funnel while they're still tantalizingly warm.
What can you do with the Iterable connector?
Iterable is, of course, the highly flexible platform that combines email, mobile SMS and in-app messaging, social, web, and even direct mail into omni-channel engagement campaigns that are data-activated and infinitely scalable, while offering extraordinary 1:1 personalization.
But things get even better when you integrate Iterable with the rest of your marketing and sales stack. Among other things, the capabilities of the Tray connector include:
Updating and managing an Iterable subscriber list
Updating and managing individual subscriber info
Call a full list of events completed by a specific subscriber
Call an individual subscriber's full data/personal information
List and track custom events performed by a subscriber
Why is this important?
When you use the Iterable connector for Tray, you can directly tie the omni-channel messaging platform's messaging ability to other components in your marketing and sales stack. This means you can take Iterable's levers and use them to automatically nudge your subscribers through your marketing and sales funnel, without any "leaks" or leads going cold.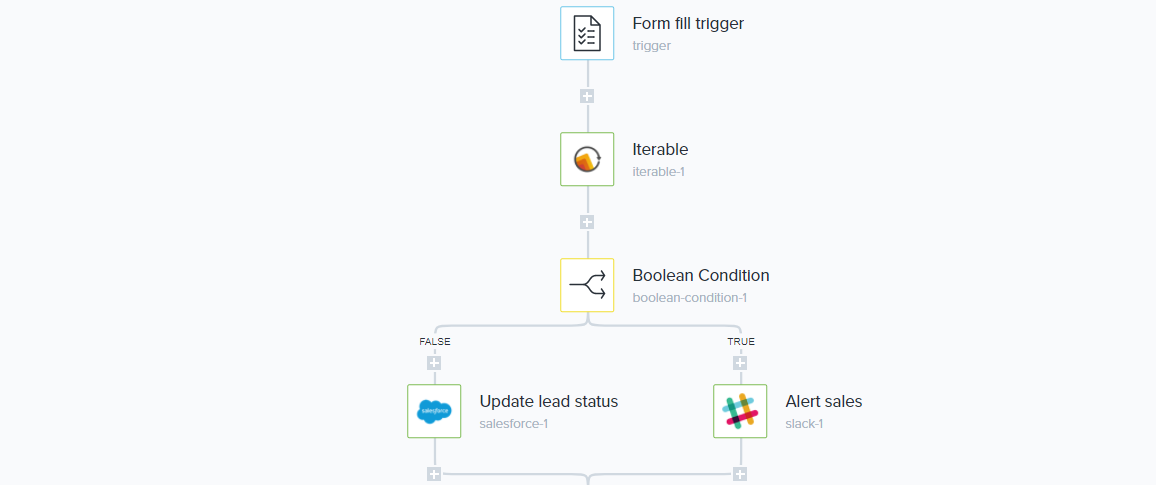 Use case: Push Iterable leads deeper into the funnel
Since Iterable offers the very useful ability to message across all major business channels, let's consider a use case to seamlessly transition leads from nurture to sales readiness. Here's how:
Create a Tray workflow starting with form fill - in this case, for leads who have signed up for a marketing offer from your website.

Next, your workflow passes the captured lead information from your form fills to Iterable to subscribe users to your messaging lists, most likely to a nurture campaign. But your content and demand teams have devised an absolutely dynamite marketing program and follow-up nurture track designed to consistently warm up subscribers through a powerful customer journey built right into the nurture track.

Next, Iterable passes its data to a boolean if-then loop you've built with Tray that incorporates both CRM (in this case, Salesforce) and internal chat software (in this case, Slack). The purpose of the loop is to gauge how much of the customer journey your leads have engaged with so far.

Have they clicked through to that one killer blog post? Great. That's one loop. Did they also subsequently click through to your latest eBook? Even better. Did they then sign up for next week's webinar as well? If they've gone through every single touchpoint, they may be warm enough for a sales touch.

If the lead triggers one of these touchpoints, but not all ("false") Tray's boolean loop updates that lead's status in CRM to record each one. If the lead triggers all three of these touchpoints ("true"), you can set your workflow to automatically qualify that lead as sales-ready in Salesforce, and also to trigger an alert through Slack to your sales team to begin the outbound sales process.

(And you've done this process without having to call time-consuming meetings, share clunky spreadsheets, and letting warm leads go cold due to lack of follow-up.)
Takeaway
You should now have a better sense of how you can take a very good thing - Iterable's fantastic messaging platform - and get even more out of it with smart automation that integrates the rest of your marketing and sales stack.
Please visit the Iterable website to learn more about this powerful application.
Request a demo of Tray to learn more about how you can incorporate omni-channel messaging, marketing automation, CRM, chat, task management, and just about any other important software application into error-free workflows that help you move faster and more efficiently.