Introducing: The AdRoll connector
Product
Adroll
Connectors
Tactics
Marketing
Question for marketing experts: What if you could get even more out of AdRoll, the powerful retargeting and prospecting platform used by more than 35,000 advertisers around the globe?
Specifically, what if you could incorporate AdRoll's outstanding functionality into the rest of your marketing stack, including Salesforce, Marketo, HubSpot, and Outreach? What if you could tie everything together with efficient automated workflows that plug up any leaks in your funnel, connect your marketing programs, and ultimately qualify leads faster and more accurately? Now you can with the new AdRoll connector for Tray!
What can you do with the AdRoll connector?
AdRoll is the popular and widely-used advertising platform that thousands of marketers worldwide use to reach prospective customers in a variety of funnel stages, retarget previous website visitors, prospect for similar audiences, and even fire off personalized emails based on visitor behavior.
This outstanding platform becomes even more so when combined with Tray. Tray's open-ended connector logic means that it can add support for just about any API operator, and continues to add more functions and use cases over time. Current and in-development functions and use cases include:
Creating new "advertisible" units in your AdRoll account to target specific audiences
Pulling up info on a specific organization
Integrating AdRoll metrics into a full marketing/sales stack that includes marketing automation, CRM (customer relationship management) and ABM (account-based marketing).
For example, when using this connector to create new advertisibles, you can set them up with outputs that include showing dynamic web ads, along with additional tie-in functionality to Marketo, HubSpot, Mailchimp, and other important marketing applications. Effectively, you can use this connector to pull important data points from your existing database and assign them to AdRoll campaigns to reach the key prospects you're targeting for your business. Overall, the AdRoll connector opens up a world of new possibilities, especially with current and in-development functionality to consolidate performance metrics in a single place, for the purpose of informing marketing teams of the right time and place to send out subsequent marketing touches.
Why is this important?
With the AdRoll connector for Tray, you can not only plug your AdRoll operations directly into your existing marketing stack, but you can also create automated workflows. Why are automated workflows important? They save you time and they ensure that you seamlessly transition prospective customers along different funnel stages, including to and from any campaigns you may be launching via AdRoll.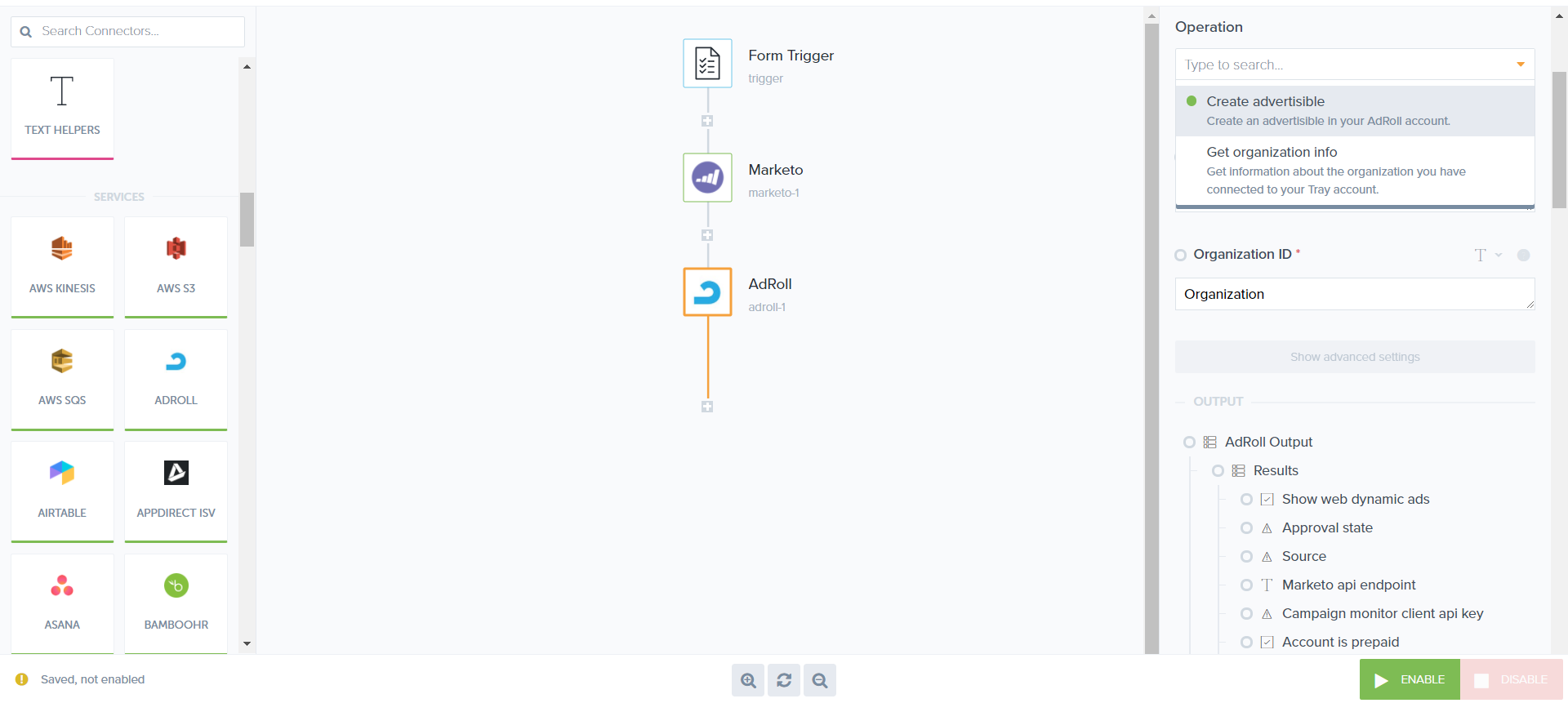 Quick example of the AdRoll connector: B2B retargeting for ABM
While there are many possible uses for this connector, here's just one possible case to consider. Your marketing team are working through your account-based marketing (ABM) playbook to accelerate prospects from your target accounts to guide them through your funnel and get them sales-ready. For this purpose, you and your colleagues just created a brilliant new offer, which you're ready to post to your website. But you're not satisfied to stop there.
As an experienced marketer, you already know that one of the smartest and most cost-efficient ways to stay top-of-mind is retargeting. Retargeting ad campaigns, as you're well aware, display ads to your prospects after they've taken a specific action, such as engaging with your new offer. You're also probably aware that retargeted website visitors are 70% more likely to convert. And you definitely know that AdRoll's excellent retargeting solution combines efficient bidding, intuitive reporting, and broad reach across more than 500 ad exchanges (including Google and Facebook).
How can we put all this theory into practice? Let's create a sample workflow with the AdRoll connector, using Marketo for marketing automation:
Create a new workflow that begins with a Form Trigger. This captures the personal information that your prospects enter onto your offer landing page to trigger all subsequent steps in the workflow.

Set the Form Trigger to activate the Marketo connector to "Create/Update multiple leads," an action that adds any new leads to your database while updating the status of any existing leads to reflect that they've signed up for your offer.

Set the Marketo action to trigger the AdRoll connector to "Create advertisible," in this case, to create a new EID for this contact to be added to the AdRoll retargeting campaign you're creating to accompany the new offer.
With this workflow, in just a few quick steps, you've ensured that, for any valuable prospective customers that signed up for your offer, you both update their status in Marketo and also flawlessly add every single one to your AdRoll retargeting campaign. From here, you might also set up additional cascading workflow steps, such as adding these prospects to a relevant email cadence in Outreach or even setting follow-up tasks for your marketing or sales teams in Asana.
Takeaway
You've hopefully gotten a sense of the powerful new capabilities provided by the AdRoll connector. You can now incorporate AdRoll's formidable retargeting and prospecting abilities directly into your marketing activities in a way that not only saves you time but also automatically matches leads to databases to outbound applications (and even task management tools) with complete fidelity.
Request a demo to learn more about how Tray solves your lead-matching headaches and helps you directly incorporate powerful strategies such as retargeting into efficient, time-saving workflows.
For more information about AdRoll, please visit the AdRoll website.